Forging Africa's future with Sustainable Sanitation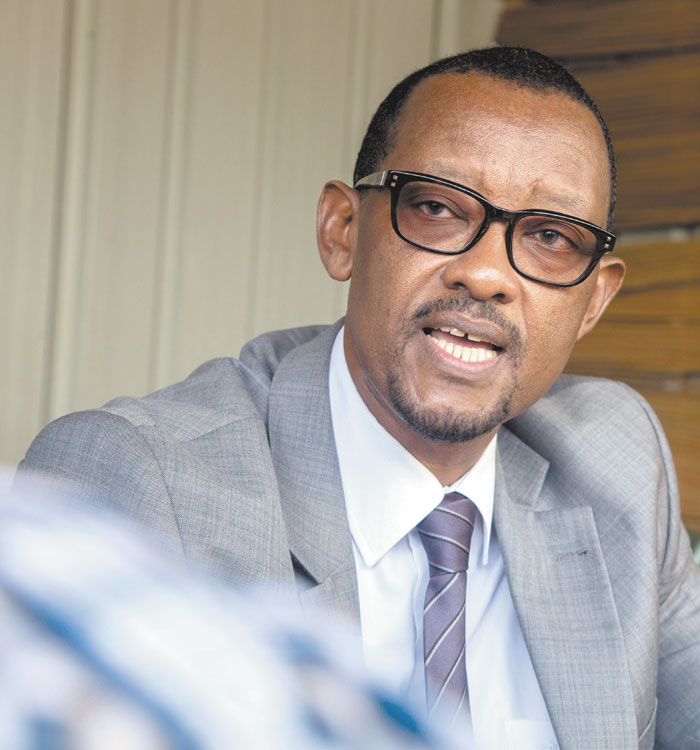 Dr. Canisius Kanangire, Executive Secretary of the African Ministers' Council on Water (AMCOW)
Access to adequate sanitation and hygiene is a fundamental human right. Yet about 783 million African citizens do not have access to adequate sanitation facilities[1]. This has a detrimental impact on the health, prospects and quality of life of people all over the continent and above all, on their dignity. A World Bank study involving 18 African countries show that poor sanitation costs them a whopping $5.5 Billion annually. This must stop.
Sanitation has been neglected in the past across the continent. This led to the AfricaSan initiative in 2002. The initiative has since served as a platform for all the critical stakeholders within the sanitation space in the continent to share experiences and also for policy makers to make far reaching decisions and commitments towards improving sanitation on the continent. One of such is the AfricaSan eThekwini Ministerial commitments of 2008 which became a watershed for sanitation. The eThekwini commitments received the endorsement of the African Union Heads of State at the extraordinary summit in Sharm el Sheikh, in Egypt in the same year to help Africa improve the enabling environment for sanitation service delivery towards achieving the MDGs target for sanitation and hygiene. Monitoring of the progress on the eThekwini commitments was done up to 2015. Though some progress was made in the enabling environment for sanitation, the MDGs target for sanitation was missed widely by more than 40 countries. In 2015, the Ngor commitments were agreed upon by the Ministers in charge of sanitation to help Africa achieve the very ambitious targets for sanitation and hygiene contained in SDG 6.2. To make any meaningful progress in strengthening the overall enabling environment and accelerate access to safe sanitation, inclusive sanitation policies and implementation strategies must be in place. Through a consultative process, AMCOW came up with the African Sanitation Policy Guidelines (ASPG).
The ASPG is an initiative developed by AMCOW to kickstart dialogue on sanitation with all critical stakeholders across the continent and especially, at country level towards strengthening the enabling environment by developing policies and implementing them in order to accelerate access to safe sanitation.
At the African Ministers' Council on Water, we have been working to improve the prioritization of sanitation. As part of our mandate, we have the responsibility to effectively and efficiently coordinate actions of key water and sanitation players, facilitate the strengthening of regional cooperation and transboundary water resources management and development, and build the capacity of relevant institutions and agencies. That is why we are calling on regional institutions and sanitation experts from across the continent to work with us.
As a continent, Africa is developing quickly. Rapid population growth and urbanization have the potential to further deepen the sanitation problem due to the inability to cope with demand. There are many challenges facing Africa's sanitation sector, and as mentioned above, most of them could be linked to policies that are not comprehensive enough and that don't put equality and people at the centre.
As a delivery mechanism on water and sanitation for the African Union, AMCOW has spent many years working and advocating for the transformation of the water and sanitation sector, and recently focused significantly on the WASH sub-sector. That is why the development of the ASPG is a monumental achievement and an important step for Africa. The ASPG provides a fantastic opportunity to align national policies to SDGs context and requirements and develop strategies and plans that will be better adjusted to national financial and technical capacities. AMCOW and its regional and global partner institutions are prepared to provide support to countries that will adopt the ASPG and express the willingness to use it to pave way for their transformational journey toward achieving the SDG 6.2 on sanitation.
The concept behind the ASPG required years of careful development, resulting in a comprehensive, equitable, participatory and sustainable approach to sanitation policy making. The spirit of collaboration is alive throughout the process of drafting these new guidelines, and it will continue throughout the implementation period.
For the policy guidelines to be successful, we must be trusted not only by member states, but also by implementing partners across the continent and by development partners across the world. When I became Executive Secretary of AMCOW in 2016, I made it my personal mission to ensure more Ministers across our countries prioritize sanitation. We are moving forward in that direction, but we must intensify our efforts to accelerate access to safe sanitation for all our people.
The creation of an enabling environment for sanitation across the countries of Africa is a clear goal. In Africa, like elsewhere in the world, there are countries who have made progress better than others. We must facilitate the opportunity where some countries will learn from their peers. As a result, a pan-African approach is required to enable that happen. Importantly, regional institutions, sanitation experts and other WASH organisations will be critical for engaging their national stakeholders on the importance of this approach. We are already seeing interest and engagement with the ASPG development process, and we hope that other stakeholders will realise the benefit of this collective effort and reach out to us too.
As we enter a new year, and a new decade, many look inwards for self-reflection and change. I propose the opposite. It's time to look outwards at the very fabric of our countries' policies and sanitation ecosystems. Through policy development and implementation, we can shift Africa's future to one that is sustainable and equitable. We can forge Africa's future with sustainable sanitation.
About the Author:
Canisius Kanangire is the Executive Secretary of the African Ministers' Council on Water (AMCOW). He is also the Chairman of the Strategic Advisory Group (SAG) of the United Nations Integrated Monitoring Initiative. He tweets at @CanisiusKana
For more information about AMCOW, please contact Maimouna Tall, Communications and Visibility Manager at mtall@amcow-online.org
---
[1] https://washdata.org/sites/default/files/documents/reports/2019-05/JMP-2017-report-final.pdf